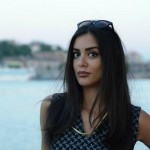 A wonderful afternoon shooting wigglegram at Hot Mess, a night club on the Danube river. Slight breeze, reflexes on the water, the photo model Jana Lojanica. Perfect mixture for creating exciting breezegrams.
Enjoy.






The shooting
The shooting was pretty straight forward. We had to be careful only about two particularities.
As we were shooting from a boat, the background scenery was moving. So, the imperative was to focus only on the face and keep the background as blurry as possible.
It was the first time for the model to pose for breezegram. On the top of that, it was windy. We had to shoot a lot of pictures to get the perfect image.
The adjusting
We came back from the shooting with lot of material. It was a tough job to choose the best pairs of images.
We focused on the face, which often results with unnatural background movement. In these images though, the blurry background has a charm of its own.
We used different animation effect balance between the two images to achieve natural look.
The viewing experience is enhanced even though it looks like nothing on the image is moving.
Breezegrams are great when you need to create a subtle movement effect. It can be used for demonstrating movements in events or panoramic images. They are also effective when it comes to profile captures, eg. single facial movements of the eyes, mouth or hair.
We suggest use of Breezegrams in make-up and hair industry, as well as in tourism, events or art.