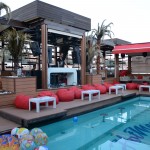 We had the opportunity to take 3D images at Hot Mess, a day-night club on the Sava river (Belgrade, Serbia). It was afternoon on a working day, so they were only a few people around – good for shooting!






The shooting
People, water, wind in the leaves, everything was moving. We made series of pictures for wigglegrams and series for breezegrams.
Find the best composition of near, middle and far objects.
Play with the "blenda" to have the background blurred or not.
Climb on the infrastructure to get the best point of view.
We also had a Fuji W3D.
The adjusting
Some photos were not suitable as the nearest objects disturbed the composition of wigglegrams.
We chose the dimension and positions of the export frame to save only calm elements in the pictures.
For breezegrams, we corrected the rotation differences of the three axis, ∆z first, then ∆y, and in the end ∆x to have a steady picture.
We suggest use of breezegrams when you want to present the ovierview of the club space. Use wigglegrams when you want to focus on certain details or people in the club.
Make the images of your establishment more appealing for sharing amongst youngsters. It's easy and does not require much work, but creates great effect.
Try with breezegrams first!