11 Exciting Places for Taking Photos
The world of photography is the world of endless excitement and possibilities that allows you to choose where your memories will take place. Almost every person we know says their wish is to take photos in some extraordinary place, so we were inspired to make a list of the most exciting places to take photos. From wild Safari to the highest skyscrapers, what follows are our 11 suggestions of most thrilling ones.
1. On Top of the Bridge
Everyone seems to be in love with selfies these days, and that is perfectly fine with us. We like them too, but taking them on top of the bridge has gone a bit too far. All you adventure addicts out there, think twice before climbing the bridge. Not all only are you risking your life, but you can get yourself arrested while trying to make an exciting selfie. If you are that keen on impressing someone with this kind of selfie, you can always photo shop yourself into a picture. It is a much safer and faster alternative. If you still determined to do it please use the right climbing equipment.
2. On Top of the Crane
There is no need to explain how dangerous climbing a crane could be. It is against the law, too. Well, that hasn't stopped the urban ninja, James Kingston. He has climbed cranes all around the world and took some of the most insane and heart-stopping photos ever! What is even crazier he doesn't use any of the safety gear. Evidently, this young man definitely doesn't lack courage and pretty much cannot afford to be scared. All people who consider doing the same thing should reevaluate their decision because there are plenty of safe places to go climbing.
3. On the Edge of a Waterfall
The majority of you have heard about The Devil's Pool, a small lagoon that is right at the top of Victoria Falls. It is a place where you have the chance to look right over the edge of the Zambezi river and take magnificent photos. Many people stated that it has been the most unique experience of their lives. This is not recommended for those who are scared of heights. We are definitely adding this place to our bucket list. Have some of you visited this place? Leave your comments below.
4. On Top of the Skyscraper
Taking a perfect shot or a great selfie from the top of the skyscraper could be pretty risky. However, this doesn't count for popular daredevil Mustang Wanted. He is known for climbing high altitude skyscrapers, cranes, and antennas. He says that high altitude is the least of his problems! Police waiting for him at the bottom is what bothers him the most. We must pay a tribute to this brave man. There are probably very few people who would dare to do such thing. What about you? Are you brave enough to try something like this?
5. On the Edge of a Cliff
Standing at the edge of a cliff and taking incredible shots is a great adventure. Enjoying a dazzling view over a cliff is worthwhile the hike it takes to reach this fascinating spot. Well, it's definitely worthwhile for people who are daring enough and not scared of heights. One of the tasks we set out for our team this summer is to climb a cliff and get us couple of these breathtaking shots from the very edge. We cannot wait for it. What do you think about such an adventure? Would you climb a cliff for a speechless shot?
6. On Top of the Mount Everest
It is not just the height but also magnificent scenery that attracts people from all over the world to climb Mount Everest. Climbing this wonder of nature represents the ultimate challenge for professional climbers. We can only imagine how hard it would be for regular adventurous types, but that shouldn't stop you. If you ever decide to do it, here are some tips from people who did it. From other people and their experiences the best time for climbing is between April to May each year. As regards to best location for taking photos people chose Dregura Mountain Pass where you have the chance to shoot the four peaks of Himalayas. In the end, you don't have to think too much. We are sure that finding a good angle shouldn't be a problem on Mount Everest. Standing at the top and taking mesmerizing photos is a big achievement and a beautiful experience. Experience which you can share with your grandchildren someday. If you have climbed any mountain top, let us know and share your experience in the comments section below!
7. Near Volcano Crater
Let's talk about volcano craters! Extinct volcano craters, to be precise. The whole experience must be exciting. Imagine setting your camera over this big hole that once used to be so intense and dangerous. Isn't that thrilling? We can only fantasize about how powerful these photographs would look like. There's no better place for sensing the living energy of the planet. Volcanos will always hold that trim of a mysterious doubt to whether they will be awaken again that sends the adrenaline up to the clouds. The privilege and honor of making photographs in such extraordinary places however, balances out all the fear.

8. On Top of the Tree
If we leave aside unstable branches this is quite a place for taking photos. It is the place for the people who want to stand out with their photographs, without having to travel the world to do it. Not only can you take admirable landscape photos but you can also take some beautiful macro shots of insects and cracks of the wood on your way up there. This is why we advise you to bring several lenses with you, it will definitely give you more possibilities to make a perfect shot. It is worth mentioning that climbing a tree is not as dangerous as climbing a crane. In the end of a day majority of us used to climb trees as children. If this is not on your bucket list yet, you should definitely give it a try.
9. At Safari Surrounded by Wild Animals
On one hand, it is a known fact that element of danger is part of the business when it comes to wildlife photography. On the other, the wildlife gives them an extraordinary opportunity for capturing unforgettable close-ups. In the nature, Safari in this case, photographers never know which wild animal they will encounter next. They don't have minutes to take the perfect shot, they have quarters of seconds . They have to act fast because animals are always on movement, if not on the run. But, this is what brings the zing to this job. If you choose to shoot elephants, however, you can sit down and set your camera to perfection, before taking a single shot. This was our choice, as to be seen from the attached evidence :).
10. In the Ocean Surrounded by Sharks
Sounds scary to say the least, or is it really? It is an experience lifted with adrenaline and reserved for the bravest ones. Seeing sharks from sooo up close must be both frightening and exciting at the same time. We don't recommend taking photos of ocean's scariest predators. Especially for those people who don't have enough experience. For those with somewhat experienced who would like a close encounter with the "sea monsters" to  take photos the Bahamas might be the right place. If you want to photograph and "hangout" with sharks, go to Tiger Beach, a famous area for many tourists. You will be surprised how many close-ups shots you can make – those sharks anything, but shy. This exhilarating experience will not leave you indifferent, that's for sure :-).
11. In the Space
Let's be honest here. Who wouldn't take a photo in the space? It is a once in a lifetime achievement and imagine the experience. In our humble opinion taking selfies in the space is the best selfie opportunity you can get. We have to admit that we are jealous of astronauts who had this unique opportunity. They are definitely the privileged ones. One of them in the photo below is a Japanese astronaut, Akihiko Hoshide, who took this selfie in September 2012. during the Expedition 32. Shortly afterwards this selfie became a viral phenomenon. We sure are envious of his photo. Who wouldn't be? Hopefully, one day everyone will have the chance to go to space and capture a few snaps!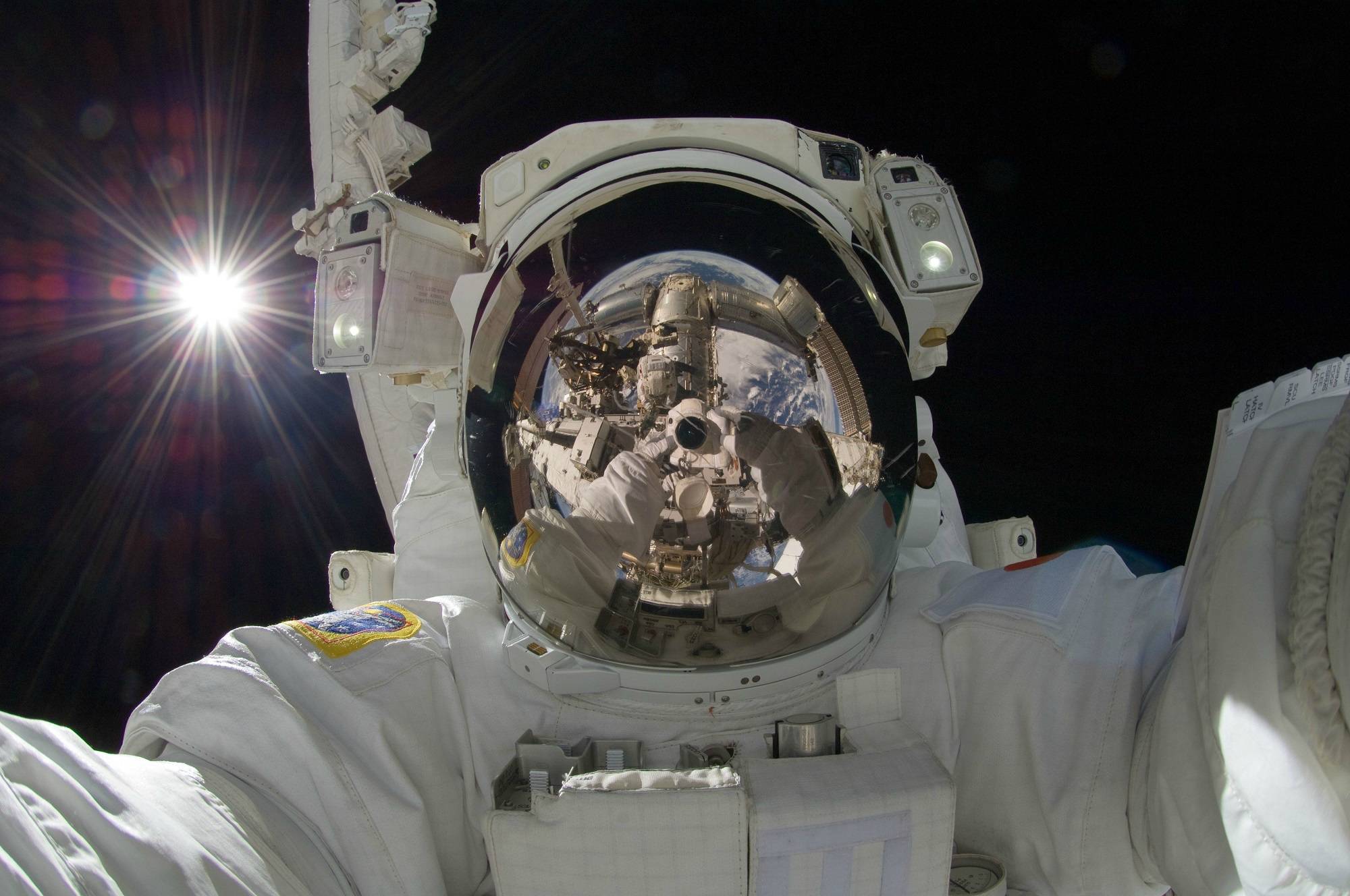 Now that we have listed our 11 picks, we want to hear it from you too! What was the most exciting place you have ever taken a photo from? Feel free to share with us in the comment section!