5 Wigglegrams You Need To See Before You Die
Wigglegrams are the image formats that are impossible to ignore. Images that wiggle – they are fun ways of expression by default. We spoke of wigglegrams many times on this blog – what are they, how to make them, when to share them, but we have never made a list of the most amazing ones. Sometimes wigglegrams are just so impressive it can be daunting to decide which one is better that the other, so we decided to give you a list of the most fabulous ones you will find online! Here are 5 awesome wigglegrams that are definitely worth your while, so keep track and make sure you pin them onto your list of things to see before you die. 🙂 Enjoy!
1. "Blue Girl" by Dain Fagerholm
This staggering piece of art is a work of an artist, Dain Fagerholm,  who makes wigglegrams from hand drawings. Yes, you have read it well, from drawings! He has only used ink pens and colour dye markers to create this provoking wigglegram. That is precisely what makes his work so edgy and original. In the example below you can see how this unusual yet superb drawing wisely simulates the 3D effect. Almost as if he brought to life this petite creature. What is unique about his work is the fact that he likes to explore themes such as: fantasy, dissociation, and trauma. As you can see in the image below, this tiny creature looks so lonely and abandoned. How cool and innovative is that? This artist managed to grab our attention with his work more than once. One thing is for certain, he doesn't lack in drawing skills and creativity. What is your opinion about this wigglegram? It blows you away, doesn't it?
2."Wired Lathyrus" by Hiroshi Yoshinaga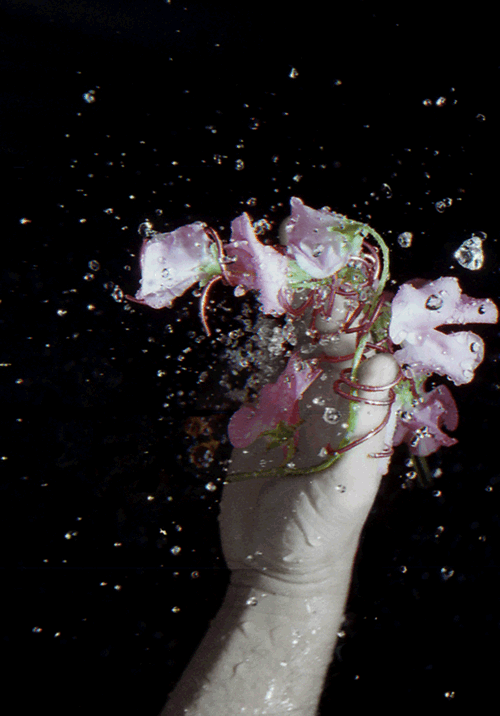 The name of the artist who made this wigglegram is Hiroshi Yoshinaga. For this stellar piece he used vintage Nimslo stereo camera which produces 3D images. If you want to give your photos an extra retro feeling this camera might be the perfect solution for you. What is unique about this wigglegram? For us, it is the composition in which everything cames together – the light, the colors and the action. It is interesting how black background adds an instant elegance and a sense of depth to this wigglegram. This makes the 3D effect stand out. The water drops and flowers are just like a cherry on the top of the cake. The contrast between black background and subtle pink toned flowers is the key to this beauty. They work so well together and make this wigglegram look more engaging and refreshing. We think this is one of the examples that has an element of surprise you that makes you stare at it for quite a while.
3. "Alone at Last" by Dan Florence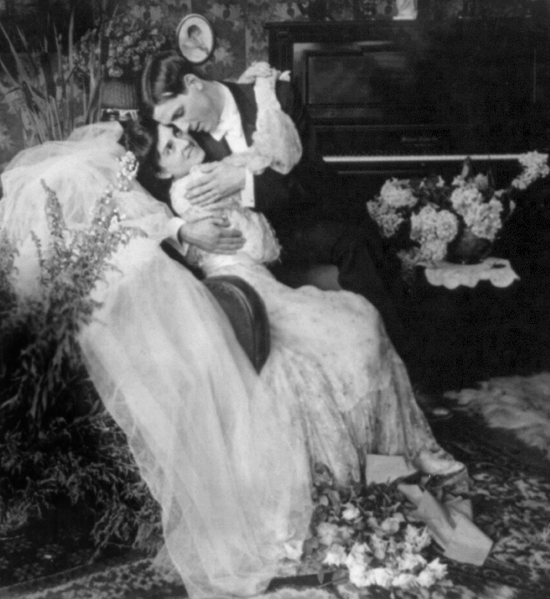 The man behind this vintage wigglegram is a photographer, stereoscopy enthusiast and gif artist, Dan Florence. He surely likes to experiment with vintage stereoscopy images. You probably wonder how has he made this wigglegram? Well, he starts off by finding an old stereoscopic image and then he uses an image editing tool, Gimp, to pefect it. In a way he is reviving vintage images and brings them to a whole new level of spiciness. What could we say about this one? We always cheer for love in any kind of way. That's why we think this piece of art not only represents the beauty of wigglegrams, but also love in its purest form. The fact that this is a black and white wigglegram is adding a whole new flair to the image. Therefore, it's not surprising we've chosen this wigglegram to be among the best ones. In the end what could be more inspiring than love?
4. "Mystic eye" by 3DWiggle

In this example you have the chance to see our proudest moments in wigglegram making. Needless to say that we used 3DWiggle software to adjust the images and the end result was more than we expected. The goal was to create something mystic yet alluring, and we got exactly what we wanted. What makes this wigglegram so distinctive is its composition and 3D effect that is so real and vivid. Almost as if you can reach out and touch her face. Everything on the image is perfectly combined – from the blurry background and sexy eye mask to the striking blue eyes. If you look closely into her eye you will see how her iris is changing. Enchanting isn't it? The most import thing about this enthralling wigglegram is that grabs your attention instantly. The power of a good wigglegram lies in the 3D effect which is subliming in this one.
5. "American Alligator" by 3DWiggle

If you think this is a stuffed alligator, think twice :-)! This "ferocious beast" is called Muja and he is considered to be one of the oldest living alligators in the world. Believe it or not he arrived in Belgrade Zoo in 1937 and he has survived the World War II, so basically we are talking about a true legend here. This wigglegram is very fond to us, especially because of the story that follows it. Last month we went to the Belgrade Zoo with intention to capture some shots and close-ups of animals. We didn't even plan to go to the alligators area, but the working staff told us the story about Muja and we were on our way to capture it. We didn't want to miss such an opportunity. It was a true pleasure shooting this star and he definitely knows how to pose still which is essential for a good wigglegram. We do feel special because we were first to create such a special wigglegram. The only missing thing here is his autograph, but maybe we will get it next time.
That's a wrap dear people! If you have any questions feel free to ask them in the comments section. You can also share your favorite ones!