10 Foods That Look Great on Wigglegrams
Why has it become so attractive to take photos of food, we will never know with certainty. Some psychologists claim that it is an extension of an old social tradition – food sharing. Only now the sharing has gone digital. Other psychologists think it involves deeper obesity issues. Whatever the trigger may have been, nowadays, 81% of people active on internet consider themselves a foodie. It just proves to show that people like to enjoy food, therefore they make it a part of their digital life as well. The @WebPsych research shows that the most common reasons for food sharing are: Proud they made it themselves, because they thought it was beautiful, to record a special event or occasion and because it was a treat. They all make sense, don't they? We agree that food is a part of our everyday life and enjoyable experiences. Like all other exciting moments, we like to share this these with our family and friends on social media. However, we like to make our images as original as possible, so for our food posts, we mostly use wigglegrams. This allows us to inhale some life into the type of photography that are so sense-oriented.
1. Caesar Salad Wigglegram

This is one of those Instagram show-offs taken with a smart phone. We took it at our lunch meeting at risk of being one of those "annoying people"  who take photos of food even on business occasions. We couldn't resist it, though. We are sure you relate! Before eating this scrumptious salad we took our time in planning the shot and voila! Enjoy the magic of food – stereoscopy alliance. If you decide to take a foodie wigglegram with a smart phone, here is a piece of advice! Make sure the dish is in the center of your photo, feel free to get the camera close to the plate for a better result, this will allow you to capture all the details. We wanted the photo to look as natural as possible, but if you are a dedicated Instagramer, you can also remove the other objects from the table. In terms of light, we were lucky as the restaurant was pretty luminous providing us with solid amount of natural lightning. The final tip: turn off the smart phone flash because the light will spill unevenly over the photo.
2. Cheese Roll Wigglegram

Have you ever tasted a cheese-filled croissant? One of  the most delightful things in the world, isn't it? That's what we wanted to capture, the tastiness of the dish! During this photo shooting we used a black background because we wanted to accentuate the smallest details. The croissant occupies 2 thirds of the image making it the star object. What we wanted to do here was to create a sophisticated and mystic appeal that is both intriguing and elegant. We kept it simple, generally the "less is more" rule is applies to the majority of food photography. It is worth mentioning that for the shooting, we used a standard black poster board we purchased in a basic bookstore for $5. It just comes to show you that you can make some awesome photographs without spending much money. You can get really creative and use a piece of old black furniture, or maybe a rusty wall – this will contribute to the "homemade" effect, if that is what you are going for . If you liked this one, take a look at next two examples where we used the black background again. Tell us your thoughts about them in the comment section!
3. Chocolate-Covered Strawberry Wigglegram

This is what we call one hell of a close up! Wigglegram of a strawberry dipped into chocolate is so aesthetically pleasing, that it banishes you from looking away. Don't you think so? For this photo shoot we used the macro setting in order to achieve a sharp focus on the strawberry in the front with blurry strawberries in the back. One of the biggest challenges we came across during this photo shoot was to keep the shine of the strawberry on such a dark background. So, we used the trick that many professional food stylists use, we covered the strawberry with corn syrup to give it an extra shine. Of course, this works only for professional food wigglegrams as the food after the shooting is uneatable.
4. Steak Wigglegram

Would you look at these colors! This vibrantly colored steak on a black background is spot-on scene. In this case we used the Top Down method which is one of the most popular methods in food photography. What does exactly Top Down method mean? It means that the camera is basically held above the subject looking directly down over your dish. In this case we took a shot from the top angle and managed to capture everything within the frame. You can always experiment with different angles, it's up to you in the end. If you want to, you can also play with styling the food like we did here. We used some fresh ingredients to enhance the color of the stake and bring more life to a photo. We kept it simple, but you can get really creative with food styling.
5. Chinese Dumplings Wigglegram

We proudly present you one of our favorite wigglegrams so far, our homemade Chinese dumplings! We don't want to brag about it, but it's not every day you make this luscious dish. It had to be recorded! Luckily, one of our team members brought along a professional camera, so we were able to capture the whole "making of" process. Somehow everything came together in the end, even though the lighting wasn't the best for shooting. Nonetheless, it looks delicious! With the right angle we managed to capture pretty good shots. Full credit, however, goes to 3DWiggle image adjusting software that helped us to adjust our photos and combine them into a tasty food wigglegram. We used Nikon D3200 camera for shooting. P.S . The recipe is a secret :-).
In the next few examples you will have the chance to see some of the most memorable and appetizing food wigglegrams we have ever seen! These come from a super talented stereoscopy artist Hiroshi Yoshinaga who owns an entire website dedicated to food wigglegrams. Here's the list of our favorites:
6. Doughnut Wigglegram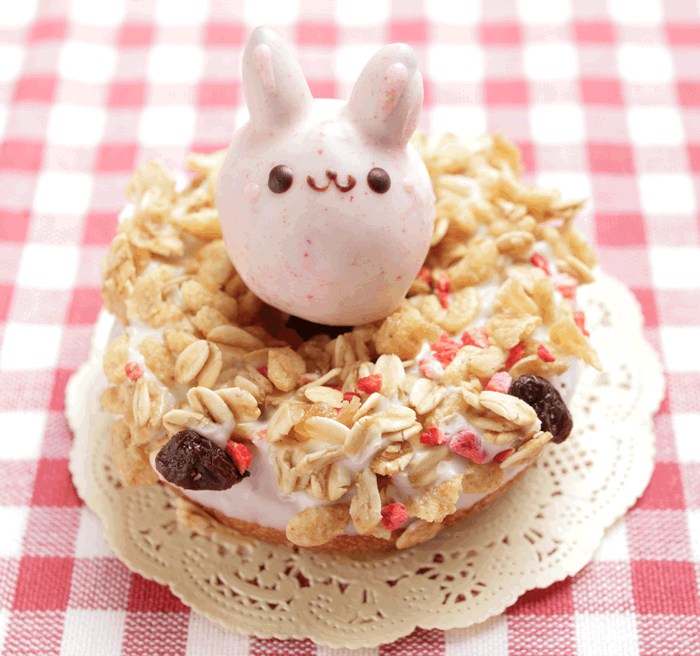 Doesn't it look cute? The way this doughnut looks on the plate looks so tempting. It is amazing how cereals on the doughnut appear to be separating from the sweet, heading straight into your mouth. That meringue on top adds an extra charm to the wigglegram.
7. Layer Crepe Cake Wigglegram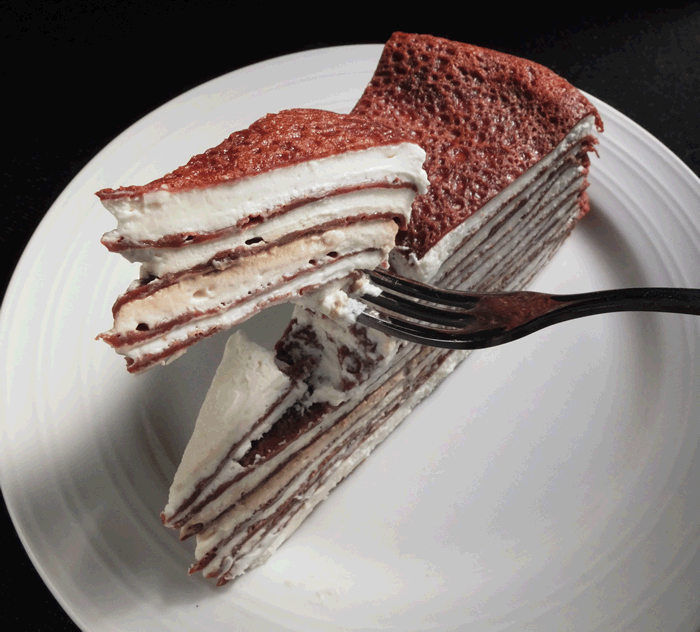 Layer Crepe Cake wigglegram is 50 layers of awesome! Chocolate, creme, crepes, what's not to love? The fork with a crepe bite is in the top layer of the image, this produces the a great 3D effect! It seems that this bite is coming at you. Doesn't it?
8. Veggie Pasta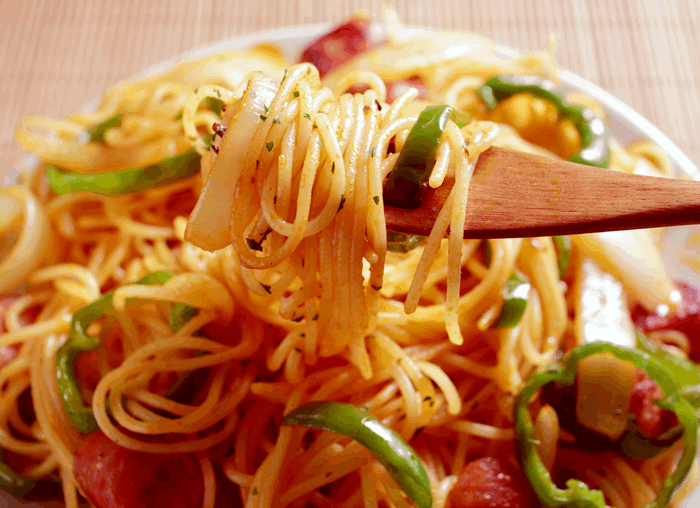 Hands down for this one! This wigglegram looks so real that you can almost sense that fantastic smell of roasted tomatoes and vapor from the warm pasta. Feeling hungry?
9. Crispy Chicken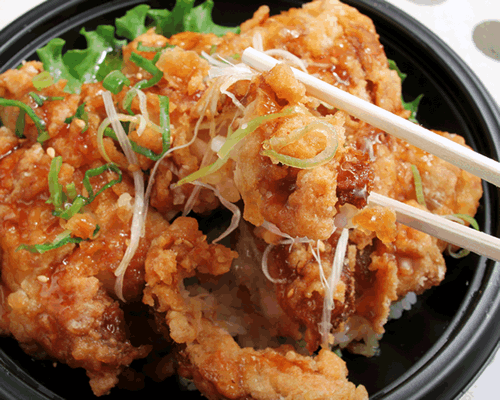 This mouthwatering crispy chicken makes you want to devour it immediately. From the 3D technique point of view, it is quite perfect. The only thing we would change is capturing whole plate in the scene.
10. Sushi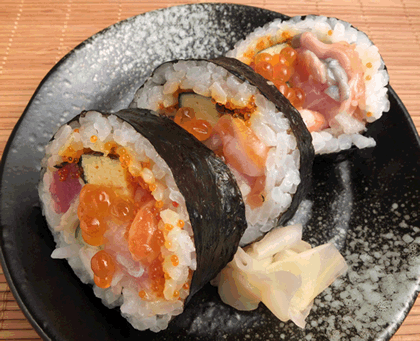 If this wigglegram doesn't make you want to run to the first sushi restaurant, nothing will! This visual deliciousness cannot pass unnoticed in this one. So simple yet so irresistible…
The party ends here! We hope you enjoyed looking at these wigglegrams! Now, it's time for you to show us what a foodie you are! We are looking forward to your tasty bites!