How Do Museums Spice Up Their Content With Wigglegrams
"Content is the way everything an organization does manifest itself in the world. So content strategy is big and broad.", said Hillary Marsh, a content strategy consultant for non-profit organizations.
This is absolutely right. In the world where technology and the internet has taken over the attention of users, there is little room left for on-site communication. The museums' negativeness towards digital communication is understandable. Their goal is to preserve, exhibit and explain objects to the audience. As the objects are displayed within the museum space, the whole experience is knitted around the physical experience. There is a certain fear amongst museum professionals when it comes to content curation and management. If they show their "content" online, no one would actually get off their chairs and pay a visit to a museum. But providing the content online can make a huge difference for museums. It is just like hanging a poster on a billboard or share a brochure in a hotel. The channels have just shifted to digital. The goal is the same – bring the visitor to a museum.
In recent years many museums have understood the importance of their digital channels and the content they share online. Visit the Facebook page or Twitter profile of some of the greatest museums, such as: Metropolitan Museum of Arts, The British Museum or The Louvre. You will notice museums have found a way to share their content. Some are more, some less creative in engaging their audience online.
What content do museums share?
According to 2015. and 2016. trends content is one of the most important terms in social media dictionary. This means that museums need to curate their content in relation to the audience that browses through social media. It's important not to only select the right things to post, but also to communicate the published material in the right way.
Currently museums' social media profiles offer the following content:
– announcements of following exhibitions
– selected items, objects from permanent collections, usually combined with a fun fact about the object or the artist who made the object
– advertisements for the activities that take place in a museum (may or may not be directly related to collections and exhibitions)
– reviews on current exhibitions from other online magazines, newspapers, blogs etc.
– posts from their own blog, which is a rare occurrence
– quiz questions to test the audiences' knowledge about the objects, artists in the collections
– sometimes videos displaying the exhibition display or opening, museum activities, artists talking, virtual visits (if there are any)
When it comes to visuals that follow text of the posts, museums mostly use simple images from their digital collections, catalogs and brochures. Photographs that relate to fragments from exhibitions, exhibition openings, moments from "behind the scenes" with curators and technicians are also popular. Videos are starting to gain place with museums' social media content. Glimpse of atmosphere from a museum activity, an artist's view on an exhibition, virtual tours, presentations are all themes for this type of media. Surprisingly, there are hardly any designed visuals to spice up the museum content. What's even more surprising is the lack of desire for meeting the visual content trends. Infographics and GIFs are almost non existent on museums' timelines.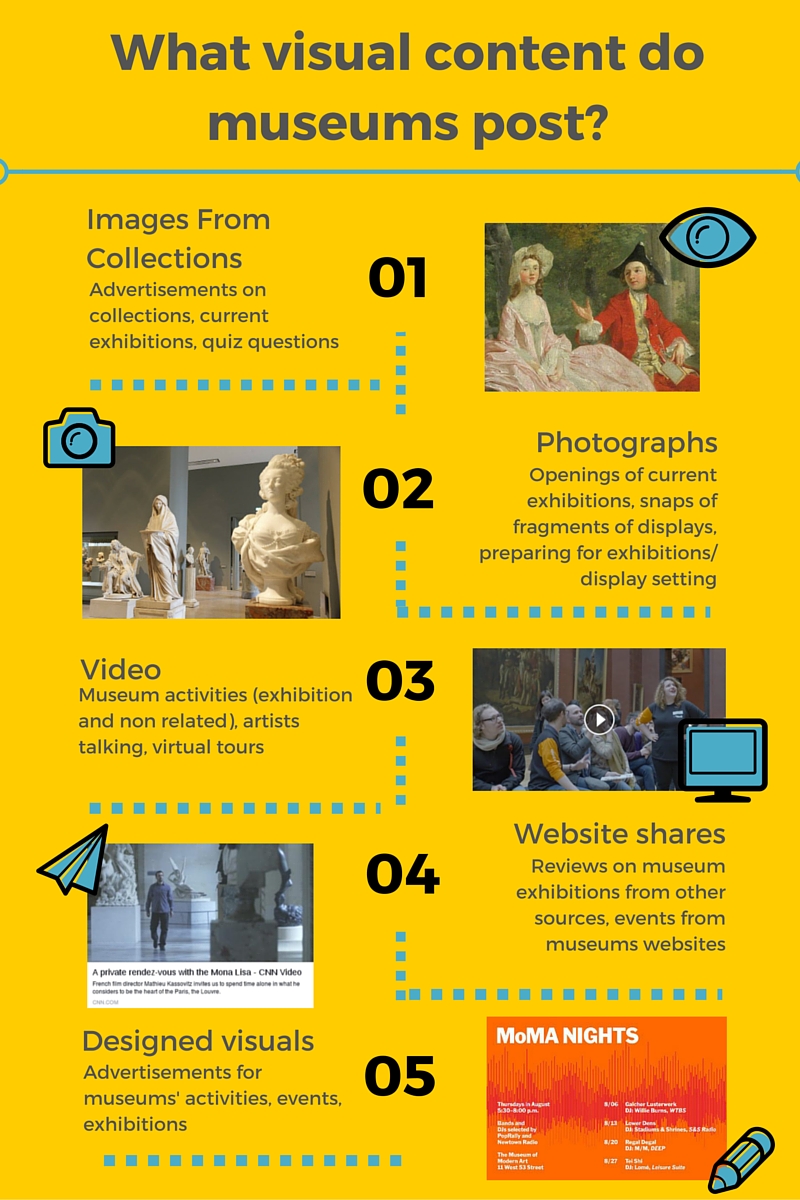 Do museums use GIFs in their content?
Since Tumblr and Google+ have positioned themselves as leading platforms for sharing and exchanging GIFs, this medium has been recognized as a powerful marketing tool. Famous brands have been exploiting GIF trends for couple of years now. Their digital channels are bundled with fun moving images provoking many comments and reactions amongst the audience. The museums, however, are only at the beginning of exploring the potential of GIFs for their communities.
Aside from the Museum of the moving image, there are still only a few museums that use GIFs. Although GIFs have been used as a buzz element of many brands' social media strategy, it is still a new media to museums profiles.
Museums such as the Rijkmuseum, the Smithsonian the Tate are exploiting GIFs in order to reanimate the drawings and paintings within their collections, online and offline. The Smithsonian for example, created animated GIFs that awake characters on drawings in their digital collections. The purpose of these animated images was purely fun. Differently, Rijksmuseum reanimates drawings by separating them into elements that appear one after another to finally create the whole drawing. These are more oriented towards educating the audience about the birth of an artwork.
Despite being less attractive to digital teams of museums, museum GIFs have taken their own turn with independent websites and communities. Just to name one, Tumblr profile MuseumGIFs with tons of great ideas for making GIFs from things or objects in the museums, primarily in NYC.
What can Wiggle GIFs do for museums' content?
In our recent post, we explained Wiggle GIFs. Wiggle GIF is a specific kind of GIF created from two parallel photographs (left and right). This makes it a wigglegram.
Just as Wiggle GIFs are used in other industries, they can be applied to museum content as well. Plenitude of modes in which wiggle GIFs can be used for content creation makes them a perfect small convenience for any type of a museum. There are two ways of using Wiggle GIFs in museums we particularly like and we'll say something about them in the following two paragraphs.
Wigglegrams with 3D effect
Museums can make Wigglegrams, or Wiggle GIFs, of an object in a museum taken from from two photos shot from a slightly different angle. These two photographs combined and set (in 3DWiggle Software, for example) will create the third dimension illusion of the photographed object. The object will wiggle gently from side to side making the 3D effect that looks pretty light and natural. It the goal is to trigger emotions and the feeling of traveling back through space and time, the wiggling speed will be slower in order to create a feeling of elegance and value. If you want to take it more towards the fun, the wiggling speed will go up producing a flashier effect with a higher level of amusement.
These kind of GIFs will work best when created from photographs of sculptures, installations, ethnological and historical objects, or skeletons of animals, when it comes to museums that preserve natural history heritage. Wiggle GIFs with 3D effect can also be used to create GIFs of certain segments of temporary or permanent exhibitions. Furthermore, they might be a particularly useful marketing and presentation tool with museums' hidden collections. Most of museums preserve thousands of objects inside their depots, probably never to be displayed, but in possession of a great historical and artistic value. Some museums have enough funds to devitalize these collections and make them accessible to users. Other museums, however, don't have that luxury. This is where Wigglegrams would do a great job because they are created from regular photographs taken with any kind of camera (smart phone and tablet camera included). And the effect is much richer, active, engaging than on the regular photographs.
Wiggle GIF created with 3DWiggle Software